Rescue Dynamics - Custom Courses
---
Custom Courses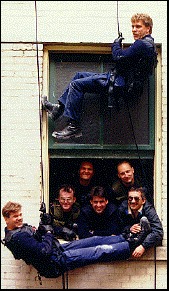 Booking a private course for you or your group is a relatively straightforward affair. First, look over our summer and winter climbing, skiing, rescue, and first aid courses to see if what you want is already regularly offered. If it is, then half your battle is over. If it isn't, then find a course or courses that resemble what you might like. The following list will help you locate brief descriptions of our regular course offerings in the four major areas.
Summer Climbing
Winter Climbing, Ski Touring & Avalanche Safety
High Angle Rope Rescue
First Aid & Emergency Care
Next, check the upcoming course dates to see that the course you are looking for is not already running. If it isn't, or you can't find precisely what you want, then contact our office and have the following information ready:

type of course required
number of days / length of course
number of persons you want to train
preferred location (if other than our standard locations)
available facilities and training areas (if you want the course held at your own location)
preferred date (please have alternate dates available)
What is it Going to Cost ?
Before anything else, you should note that custom courses may cost more than our regularly offered courses. You will almost always be better off taking one of our regularly scheduled courses from the perspective of cost. Having said that, it may not always be convenient or accessible for you to take our regular courses, thus we try to maintain flexibility in our locations and methods of delivery. In determining the cost of a custom course we look at instructor fees, meals & accommodation, travel and equipment requirements. It is impossible without knowing the particulars of a given course to say precisely how much it might cost, so please contact us with your needs.
For first aid and rescue courses delivered in your location, it is best to call us directly. In addition to the instructors, textbooks, meals & accommodation, travel and equipment requirements, these courses also have certain requirements in regard to suitable classroom and field practice locations.
IMPORTANT NOTE ABOUT WAIVERS: Our insurer requires that we have a two part process for using and administering waivers. If you sign up by mail or email you must included a signed and witnessed waiver as part of your application for all courses. You will also be required to sign a second full colour paper copy of the waiver in the presence of one of our staff members. There are no exceptions.
The Final Word
Find the type of course you are interested in. Check that it is not already being offered. Gather the relevant information as presented above. Give us a call as soon as you start thinking about it. For special bookings, you should be contacting our office at least eight months or preferably a year in advance. This is particularly true of longer courses or those requiring complex travel or logistical arrangements. As a guideline, six months in advance for simple 2 day courses may be barely enough time, especially if you want to go during peak season when the demands for our services are greatest. If your schedule is very flexible, we may still be able to handle last minute requests, so don't be afraid to call at any time.
---
---

Further Information, Comments, Suggestions?


Rescue Dynamics


Copyright © 1997, 2004, 2022 Cyril Shokoples
All rights reserved. Terms & Conditions apply.

Last updated Monday, May 29, 2023