Rescue Dynamics - Custom & Private Guiding
email:
---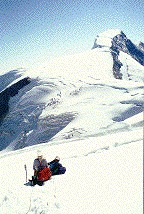 As diverse as our programs may be, there are individuals whose adventurous spirit desires even more. Over the years we have accommodated the wishes of many climbers and skiers who wanted a day or a week or more of specially tailored activities. We are more than happy to consider such requests.
The choice is yours in regard to what type of custom guided experience you wish to have. Once you have an idea as to what you might like to do, just call us to start things rolling. You don't even have to know precisely where or what you might like. We have many years of mountain travel background so that we can make some valuable suggestions.
Whatever you do, please call us early in your planning. There is nothing worse than having to disappoint an eager climber, skier or group when they wait far too long to try to book a privately guided trip. Some of our special trips are booked 8 months to a year in advance. This gives plenty of time to work out travel arrangements and apply for any special permits or licences that may be required for some areas. As a guideline, six months in advance for simple trips may be barely enough time, especially if you want to go during peak season when the demands for our services are greatest. If your schedule is very flexible, we may still be able to handle last minute requests, so don't be afraid to call at any time.


We run into two main kinds of special requests. Some folks want to climb a specific route up a specific mountain or ski a certain ski tour. They want to hire a certified guide that they can trust to plan and conduct the outing safely. (For private guiding we only employ internationally certified IFMGA guides or ACMG certified guides.) In some cases the guests wish to pay for just the guide's services and would like to make all other arrangements for themselves. In other cases, an all inclusive package is needed, where WE do all the legwork and make all the necessary calls to provide guiding, meals, accommodation, equipment and transportation.
The second type of request is most often from our repeat guests. These are folks who know what we can offer and feel comfortable that "Guide's Choice" is fine with them. "Guide's Choice" simply means that activities are not set in stone. Some tentative major objectives may be outlined, but the guide is not constrained by an absolute objective for each day of the week. This leaves the guide open to select objectives based on what he feels would provide the most satisfaction on a given day.
What Kinds of Things Can Be Done ?
Just about any peak in the mountains of western Canada or beyond is fair game. In the summer, rock, snow & ice climbs of all descriptions are available. Western Canada can provide some of the world's best climbing on limestone, quartzite, granite and other types of rock. Rock climbs vary from short, hard sport climbs to multi-pitch alpine rock routes to the summit of some distant peak. The snow and ice routes can provide equally fabulous climbing, but are more seasonally dependant. The mountains of Western Canada are still wild places however and all of the hazards you expect on big mountains can be found here. Choose wisely, or better yet, let us help you decide.
In the winter, the major pastimes include ski touring (crosscountry / telemark & alpine style) and waterfall ice climbing. We have extensive experience in both areas including many first ascents on excellent routes. Great seasonal variation is the norm here as well.
If you don't really care about getting to the top of anything in particular but want to focus on skill development, we can mix and match components of any of our courses with private guiding to help you raise your skill level.
All I Want to Know is How Much ?
The next thing to consider is that custom guide services are more costly than our regular trips where a larger number of people help to reduce the costs of a course or outing. For straightforward objectives, the fee for private guiding begins at $500 (Canadian) per day, not including meals, accommodation or transportation. For longer or more extreme objectives, the fee is $600 per day. This is based on a 1:1 guide to client ratio. Additional persons increase the daily fee by approximately $155 per person per day. Depending on the objectives requested, we may have to impose a maximum number of participants for safety or other reasons. We can provide a quote on "all inclusive" packages if you provide us with the relevant details regarding what you wish to have included. Meals can be included in your package. Depending upon the trip, this is usually charged out at $30 per person per day.
For all of our programs we provide all necessary technical equipment right down to your helmet and harness. We do not normally provide boots, rock shoes or proper clothing, although we can help you obtain these as well.
IMPORTANT NOTE ABOUT WAIVERS: Our insurer requires that we have a two part process for using and administering waivers. If you book up by mail or email you must included a signed and witnessed waiver as part of your application for all courses. Once we receive your waiver and application you will be billed for the associated fees. You will also be required to sign a second full colour paper copy of the waiver in the presence of one of our staff members. There are no exceptions.
---
---

Further Information, Comments, Suggestions?

Rescue Dynamics
Edmonton, AB, Canada T6L 1K5

Copyright © 1999 Cyril Shokoples
All rights reserved. Terms & Conditions apply.
Last updated Monday, June 5, 2023